The Movement of People
How do you respond when your neighbor asks you from at least a 6 foot distance, "What do you do for a living?"  My response is typically, "I'm in recruiting." or "I'm in talent acquisition."  I'm finding that my answer sometimes results in a blank stare from the person asking me the question.  Whenever that happens, I add,  "I specialize in the movement of people."  -Now that reply provides some intrigue, doesn't it?
As recruiters, or however we choose to refer to ourselves, we help people move.  We provide candidates with new opportunities to move up in their careers.  We partner with companies and hiring managers and assist them with moving forward with their growth plans.  We aid and support candidates with moving from one physical work location to a new one.  The more people who are moving, the better things are for recruiters.
You know what is slow at the moment?   Recruiting Velocity.  My definition of recruiting velocity is the rate at which people are changing from one job to a new one.  New openings are created, they are filled by a candidate, and that candidate's departure from their previous organization creates another position that needs to be filled, so on and so forth.  –People are moving.  I believe recruiting velocity is a great way to assess the health of the recruiting market.
Another way to think of this is through Economic Theory.  For those who studied Economics, you may remember learning about the velocity of money.  The simple definition of money velocity is it's the rate at which money is exchanged in an economy.   I get paid, I go to the store and buy something, the worker at that store then gets paid and spends their money, etc.  Money flows through the economy.  Money quickly moving through an economy is typically a good thing, but that isn't our current situation.  People are home and they aren't spending.   The velocity of money is slow.  It's a serious economic problem that will hopefully improve as we manage our way through the pandemic.
The recruiting velocity for most industries is also slow during this time.   Why is recruiting velocity slow and what do we do about it?
Coronavirus Impacts
How do we help people move when everyone is being told to stay home and not move?
The Coronavirus has impacted all areas of our lives, not just work.  Our kids' school initially closed and is now attempting distance-learning through the end of the year.  March Madness, NBA, the start of Major League baseball, etc. all canceled or delayed.  Going out to dinner and a movie?  Probably not anytime soon.  And the one time a week we venture out and go to the grocery store, we are geared up like Walter White in his lab.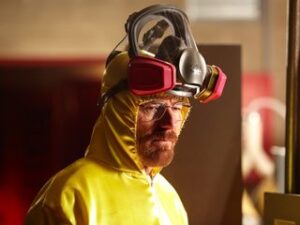 Dealing with this pandemic is affecting everyone's psyche.  I believe most people's initial instinct is to hunker down and not move.  It's the basic fight or flight decision.  "Flight" by retreating and staying home, is a logical response.  Staying home also happens to be the best way to "Fight" the Coronavirus, an enemy that we can't see.   If you haven't already viewed it, this simulator is a great way to see the benefits of staying home.
www.washingtonpost.com/graphics/2020/world/corona-simulator/
Not moving during a pandemic is a great thing for public health, but it isn't great for the recruiting business.  Many candidates are distracted with all of their other responsibilities with kids being at home, their parents needing extra help during this time, etc.  The majority of companies and hiring managers are focused on retaining their existing business and employees, not adding new ones.
Companies not creating new positions, government contracts being delayed, candidates not wanting to change employers or physically relocate during this time are all reasons for our current state of low recruiting velocity.
Keep Knocking
I'm a huge college basketball fan and the coach I most admire is UVA's Tony Bennett.  Bennett's philosophy when building a program is to simply, "Keep Knocking."    Here's a snippet from an ESPN article in 2016 about the coach's approach:
No matter where the Virginia Cavaliers go, no matter where or whom they play, a door knocker — literally, the thing you hang on your door to make it easier for people to knock — comes with them. No matter the location or opponent, the knocker is unpacked. It is hung on the wall. And before the Cavaliers take the court, every player, coach and staff member takes his turn knocking on it.
"It's symbolic," Virginia coach Tony Bennett said Thursday, "of just keep knocking."
Knocking on what?
"Sometimes the door gets slammed in your face, sometimes maybe you open it an inch, or you get your foot in the door, or your shoulder," Bennett said. "All we're in charge of is continuing to knock. And maybe we can get that foot in the door."
Many of us are staring at closed doors during this time.  Less positions to fill and fewer candidates willing to consider those positions.  The one thing that you can control is your effort.   Keep knocking.
Keep reaching out to candidates, but be more understanding than normal about what those candidates might be experiencing (both personally and professionally).   Try to look through their eyes and anticipate what questions and concerns they might have about your recruiting process.  Help set their expectations about any revisions to your organization's interviewing/hiring/onboarding approach during this unprecedented time.  Perhaps a video teleconference interview is all that is needed to make a hiring decision.  Or your team has regular VTC calls to keep their employees engaged and connected with one another.   Share that information with your candidates early and often.
Two years after the above referenced article on Tony Bennett, his UVA team became the first #1 seed to ever lose to a #16 seed in the NCAA tournament.  I had made the trip to Charlotte, NC to watch the game and will never forget the feeling walking out of the arena.  It felt like all the naysayers were right, that Bennett would never be able to win it all.  This is a picture of UVA's Kyle Guy being consoled as he walked off the floor that night: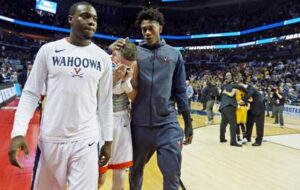 Fortunately, Bennett and his team continued to believe and they kept knocking.  The next year, they won the national championship in dramatic fashion.  This is Kyle Guy a year later: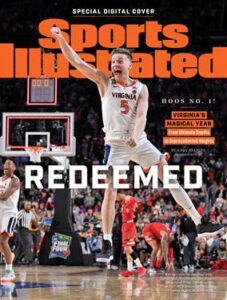 I anticipate that the next 1-2 years are going to be very difficult for the recruiting industry.  I think it's best that we mentally prepare ourselves for this challenging journey.  Keep giving your all and add as much value as possible to both candidates and hiring managers.  Many recruiters are going to leave our industry.  That's not a bad thing for those of us that stick it out and give our all.  The cream will rise to the top.
Keep Knocking.
Tim Gummer is a Principal and occasional blogger at Recruiting Associates.  Give us a call or drop us a note using the contact form at the bottom of the page.  Follow us on Twitter and LinkedIn.